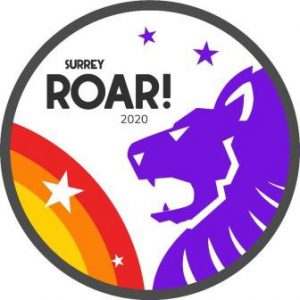 Welcome to Roar 2020 – Surrey Scout County's first ever whole county stay at home camp!
14th – 16th August 2020
Roar will run from the afternoon of Friday 14th August 2020 to the evening of Sunday 16th August 2020. Everyone can join in: Beavers, Cubs, Scouts, Explorers, Network members, SASU members, Leaders, parents – everyone! Attending Roar costs nothing!  You just need to sign up and join in.
How does it work?
Each day is divided into sessions.  Pick at lease one activity from each Main session. Choose as many of the added Extras to try and get as much in your weekend as possible – how much can you achieve in a weekend?
Join us for the virtual campfires in the evening with your smores and blanket.
On Sunday evening, we will hold our first County BBQ with everyone having a BBQ together at the same time.
And, of course, because it is a camp, you can't sleep in a nice comfy bed – time to catch some ZZZZs in a den or a tent – whatever your space allows.
More information
For more information, programme and registration go to www.surrey-scouts.org.uk/events/roar-2020