Beaver Scouts are our youngest members. A Beaver Scout Colony has members who are aged between 6 and 8 years.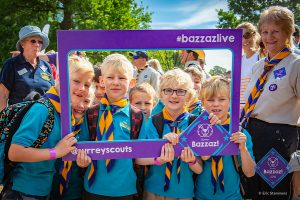 Their activities are based around "fun and friends." They usually meet weekly to take part in a wide range of activities including games, crafts, singing, visits and good turns, along with plenty of outdoor activities.
They will also have the opportunity to take part in the fun and excitement of camps and sleepovers. It may be the first time they spend a night away from home so it's a real adventure for them.
Bazzaz is held every three years, and is Surrey Scouts' biggest event for Beavers. It is a day of exciting activities – some bigger, some smaller.
(*) photo courtesy of Surrey Scouts Media Team