Each Scout Troop consists of small units of six to eight Scouts, aged between 10½ and 14 years, called a Patrol, usually led by a Patrol Leader.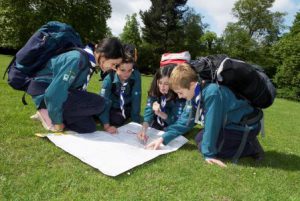 Outdoor activities feature prominently, with the highlight being hiking and camping. Throughout the year, Scouts learn various skills, such as map reading, camp cooking and first aid in preparation for camp.
Rock climbing, potholing, gliding, photography and international experiences are just some of the things they get up to.
Scoutabout is an extraordinary event that only happens once every three years – over 4,000 Scouts and Guides aged between 10 and 14 from all over Surrey participating in a weekend of fun, learning and activities. Scoutabout offers over 200 activities including – Caving, Canoeing, Paragliding, Archery, Rock Climbing, Abseiling, Crafts, Shooting and Films. It is held at the South East of England Showground, Ardingly, West Sussex – the only local place big enough to take us all!