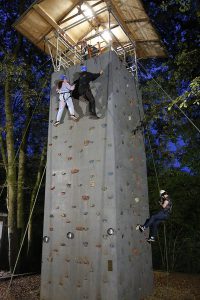 Explorer Scouts are encouraged to take part in a wide range of activities as part of their programme including traditional Scouting skills, such as camping, survival and cooking, as well as a wider spectrum of adventurous activities, from abseiling to zorbing.
The Explorer programme is supplemented and complemented by events and activities delivered across the District, allowing them the opportunity to socialise and work with other local Explorer Units.
In addition, there are a number of activity badges and ambitious top awards that Explorer Scouts can gain to recognise their achievements.
The section also includes the Young Leaders' Scheme, where young people are able to take on a leadership role in one of the younger sections.
An Explorer Scout Unit has members who are aged between 14 and 18 years.
(*) photo courtesy of Surrey Scouts Media Team