Cub Scouts, aged 8-10½, belong to the second section of the Scouting movement. A Cub Scout Pack can have up to 36 Cub Scouts and is split into smaller groups called Sixes.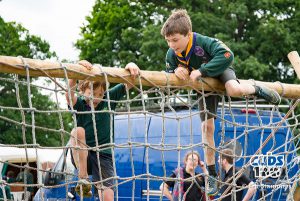 Cubs take part in a wide range of activities designed to be interesting and challenging. A Cub Scout meeting consists of games and activities with plenty of time spent outdoors.
Cub Scouts work towards badges such as the Adventure, Outdoor, Skills or Teamwork Challenge Awards. They earn these by helping to plan for a camp; learning new things, for example what it's like to be a Cub Scout in another country; and discovering and mastering new skills by building bird boxes, going on hikes, and lighting fires.
Camps and visits are some of the most memorable events of the year for Cubs.
SCRAM is the Surrey Scouts triennial county activity day for Cubs. 2000 Cubs and their leaders gather for a day of amazing activities and fun. Each Pack offers an activity to complement the larger bought in activities – the Cubs just SCRAM trying them all!
(*) photo courtesy of Surrey Scouts Media Team